Basic scientific | Engineering softwarez

---

INDEX :

1.HEXelon MAX Calculator2.Das Unit Converter3.Speed crunch4.Free unit converter5.Turbine steam consumption calculator6.Hydrocalc7.MSN experts8.Deskbot9.MathCast10.Maths Miscellanea11.Argand12.Calendar Magic13.Conversion calculator


NOTE:

The softwarez posted here are freewarez (licensed free) that they do not require any serial number or crack or any form of registration.

Feel free to download


---



---
1.HEXelon MAX Calculator
HEXelon is a mathematical calculator, currency converter, units converter.
Features:
English and Polish language.
Calculator solves math expressions like: Sin(Pi)-Root(-8;3) e.g.
User can create own functions (e.g. surfaces, volumes, and so on) and publish in Internet. Other users will download those functions and use.
Program shows position of bugs in math expression made by user. Descriptions of bugs help solve a problem.
Automatic Prompter shows all available functions, variables, constants. Simply press SPACE key.
Exchange rates table and currency converter are update from Internet by one click. There are average exchange rates announced by National Bank of Poland.
Units converter makes easier to convert various units. 14 categories of units: length, temperature, pressure and so on.
User can define a lot of variables.
Numeral systems: binary, octal, decimal, hexadecimal.
Measures of angle: radian, degree.
Keyboard of calculator can be configured. Often used functions can be under a button now.
Help available by F1 press or click over selected button.
Code:
http://rapidshare.com/files/212206866/1.HEXelonMAX_install.www.amaderforum.com.exe
----------------------------------------------------------------------------------------------------
2.Das Unit Converter
Das Unit Converter is an easy-to-use freeware program that can handle virtually all of your unit conversion needs. With over 2000 units, over 80 categories, and with the ability to add more (units and categories), you may never need to use an online converter or a search engine for unit conversions again! Some features include (full list): Online updating, world currency, conversion history, customizable outputs, support for math operations and functions, and much more. Das Unit Converter is 100% free software and 100% spyware, adware, and virus free.
Code:
http://rapidshare.com/files/212206867/2.Das_unit_converter.www.amaderforum.com.zip
----------------------------------------------------------------------------------------------------
3.Speed crunch
SpeedCrunch is a fast, high precision and powerful desktop calculator.
Features
history and results on a scrollable display
up to 50 decimal precisions
unlimited variable storage
intelligent automatic completion
fully usable from the keyboard
more than 50 built-in math functions
optional virtual keypad to be used with a mouse
on-the-fly and selection calculation
customizable appearance
syntax highlighting and parentheses matching
Code:
http://rapidshare.com/files/212206868/3.SpeedCrunch-0.10.1.www.amaderforum.com.exe
----------------------------------------------------------------------------------------------------
4.Free unit converter
Features:
13 categories so far: length, mass, speed, volume, energy, area, pressure, temperature, time, circular measure, power, metric prefixes, and number names (ex. million, billion, trillion, etc...).
You can add and delete new custom units.
Option to change the number of significant figures displayed.
Units can be sorted alphabetically or by magnitude.
Conversion is calculated as you type.
The number of units displayed without having to scroll down is user-adjustable.
Mathematical expressions and constants (ex 2*pi) are supported.
Radians can optionally be shown in terms of pi.
Code:
http://rapidshare.com/files/212206870/4.Free_unit_converter.www.amaderforum.com.exe
----------------------------------------------------------------------------------------------------
5.Turbine steam consumption calculator
Code:
http://rapidshare.com/files/212209866/5.turbine.www.amaderforum.com.zip
----------------------------------------------------------------------------------------------------
6.Hydrocalc
HydroCalc© is a tool for quickly performing meaningful hydraulic engineering calculations from a windows-based environment. HydroCalc© offers the following computational capabilities and modules:
Open-Channel / Uniform Flow Module
Pipe Flow Module
Sediment Yield Module
Manifold/Diffuser Module
Riverine Cross Section Geometry Module
Code:
http://rapidshare.com/files/212206872/6.HydroCalc30c.www.amaderforum.com.exe
----------------------------------------------------------------------------------------------------
7.MSN experts
3-IN-1 FREEWARE
1. Nickname Maker – create your own personalized signature for finishing off your online communications.
2. Test the famous theory of the Cambridge University: CAN YOU READ THIS?
" The panemonehl pewor of the hamun mnid anidroccg to rrehcraeses at Cgdirbmae Utisreviny It dseon t mettar in waht oedrr the lrettes in a wrod are the olny inatropmt tnihg is taht the fsrit and lsat letter be in the rhgit pcale The rset can be a tatol mses and you can slitl raed it wuohtit a pelborm "
3. A text inverter - Da vinci's favorite brainwork tool:
Code:
http://rapidshare.com/files/212206873/7.setupMSNexperts.www.amaderforum.com.exe
----------------------------------------------------------------------------------------------------
8.Deskbot
DeskBot is a freeware, multi-featured Clipboard Reader, Text Reader, Time Announcer, Desktop Application for Microsoft Windows featuring Microsoft Agent Animated, Talking Characters. For use with Microsoft Windows 98/2000/XP/Vista.
Code:
http://rapidshare.com/files/212206875/8.deskbot_full_setup.www.amaderforum.com.exe
----------------------------------------------------------------------------------------------------
9.MathCast
MathCast is an equation editor, an application that allows you to input mathematical equations. These equations can be used in written documents, webpages, and even databases. They could be rendered graphically to the screen, to picture files, or to MathML - today's leading standard language for describing mathematics.
MathCast can be used freely by anyone: students can create equation sheets to help them in their studies, educators can write handouts or study guides, webmasters can add mathematics to their website, and the list goes on and on.
Code:
http://rapidshare.com/files/212206877/10.MathCast089.www.amaderforum.com.zip
----------------------------------------------------------------------------------------------------
---
10.Maths Miscellanea
Performs several kinds of computations involving complex numbers (In addition to the elementary operations of addition, subtraction, multiplication and division of two complex numbers, it also finds exponentials, logarithms, nth power, nth roots, and polar forms), finds the prime factors of positive integers (This program uses a table of primes), converts numbers from base 10 to any other base in the range 2 £ BASE £ 36 and vice versa, solves problems involving circles (It finds two given the other two of: radius, arc, chord, central angle. It also finds the areas of the sector and the segment), solves triangles, that is, given 3 of its elements, the remaining elements are calculated (The given elements may be the three sides (SSS), two sides and an angle (SSA or SAS), or two angles and a side (ASA or SAA). The area of the triangle is also calculated).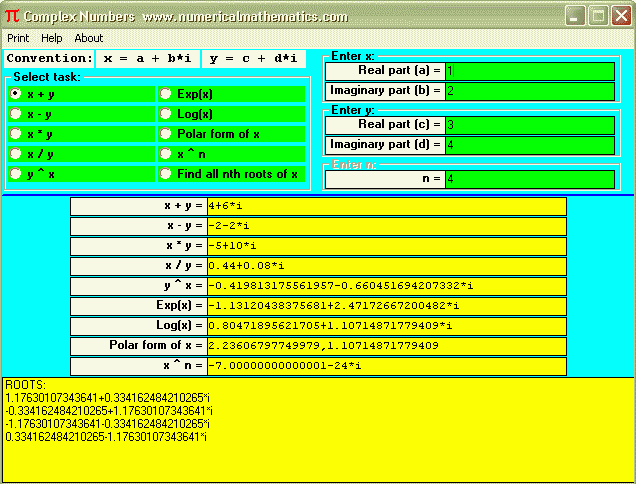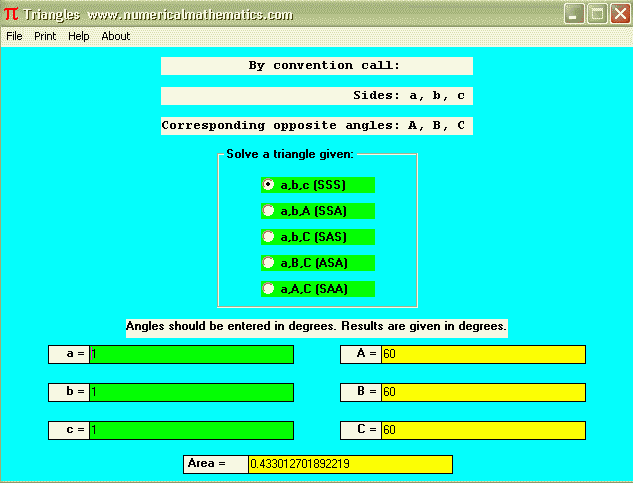 Code:
http://rapidshare.com/files/212209867/11.mathmisc.www.amaderforum.com.zip
--------------------------------------------------------------------------
11.Argand
| | |
| --- | --- |
| | This image has been resized. Click this bar to view the full image. The original image is sized 996x696. |
Argand
This is a Windows application for visualising complex functions.
It is named after the Argand diagram, upon which complex numbers can be plotted as points, with their real parts along the x axis and imaginary parts on the y axis.
Argand can be used in two main modes :
To display the real and imaginary parts of a complex function. One window shows the real part, as a vertical distance above the z plane. Another window shows the imaginary part above the z plane.
Alternatively it can show a transformation. One window shows a shape (rectangle, line, ellipse, grids) in the z plane, while the other shows the transformation of those points by the function onto the w plane ( where w = f(z) ). The integral of the function over the path is also shown. These conformal transformations are heavily used in physics and engineering.
| | |
| --- | --- |
| | This image has been resized. Click this bar to view the full image. The original image is sized 1000x686. |
Code:
http://rapidshare.com/files/212209868/12.argand20.www.amaderforum.com.rar
----------------------------------------------
12.Calendar Magic
| | |
| --- | --- |
| | This image has been resized. Click this bar to view the full image. The original image is sized 780x586. |
Calendar Magic is an easy-to-use freeware Windows 95, 98, Me, XP, 32-bit Vista based program that is entertaining, informative, educational, and of equal applicability in the home and in the office.
Features of Calendar Magic include:
Full year and individual month Gregorian, Afghan, Armenian, Baha'i, Balinese Pawukon (full year only), Balinese Saka, Bangla, Chinese, Coptic, Egyptian, Ethiopic, French Revolutionary, Hebrew, Hindu Lunisolar (3 variants), Hindu Solar, Indian National, Islamic Arithmetical (8 variants), Julian, Revised Julian, Parsi Fasli, Parsi Kadmi, Parsi Shenshai, Persian (2 variants), Sikh Nanakshahi and Vietnamese calendars. A user option is provided to choose between displaying/printing calendars showing each week starting on a Monday (in line with the ISO 8601 international standard), on a Sunday for North American users, or on a Saturday for Middle East users.
Alternative Gregorian planning calendars.
"Dual Calendars" – full year calendars in various calendar systems which show, not only the months and days for a year in any one of the calendar systems, but also the corresponding Gregorian dates.
A month-by-month, side-by-side comparison of any two of the 25 calendar systems listed above. The display remains synchronised as you change day, month and year values in either calendar system being viewed. Again, users may choose between displaying each month with weeks starting on a Saturday, Sunday or Monday.
Date conversions among the 25 calendar systems listed above, plus conversions to Aztec Tonalpohualli, Aztec Xiuhpohualli, Balinese Pawukon, Thai solar, old Hindu Solar, old Hindu Lunisolar and Mayan date formats. Julian day value, day of week and day of year information is also displayed. For Gregorian dates, many other facts are displayed, such as modified Julian day value, Lilian day value and Rata Die day value, and year related information including Roman numeral form, Dominical Letter(s), Dionysian Period, Julian Period, Golden Number, Solar Number, Roman Indiction and Epact. Various special days are also recognised (e.g. Halloween), as are modern Olympic years, Commonwealth Games years, European Athletics Championship years, and World Athletic Championship years.
Conversion of British sovereign regnal dates to historical Julian (years beginning on Jan. 1) or Gregorian dates, as appropriate.
Conversion between ancient Greek Olympiad numbering and calendar years.
Lists of Western Christian festivals, Eastern Orthodox festivals, Hebrew festivals and Islamic festivals for any (Gregorian) year. In addition, Hindu festivals may be listed for any year in the range 2000 to 2043, Baha'i festivals from 1845 onwards, Balinese Hindu festivals from 1816 onwards, Buddhist and Chinese festivals from 1645 to 3000, and Sikh Nanakshahi festivals from 1999 onwards.
Observed Days for any year from 1990 for over 230 countries and dependencies worldwide.
Date Detective command button to tabulate the weekday on which a specified Gregorian date d/m occurs for each of the years in the specified range y1 to y2.
In Which Months? command button to list, over a range of years, the months in which a specified day of the month falls on a specified weekday.
The ability to create, display, update and delete reminders for events (birthdays, anniversaries, meetings etc.) for this year, next year or every year. When Calendar Magic is started up, both visual and audible warnings are given for imminent events (those occurring within the next seven days) for which reminders have been set. In addition, a calendar for any month, in this year or next year, may be displayed with day numbers highlighted in red for those days in the month for which reminders have been set. Left-clicking on any red day will cause the reminder(s) set for that day to be listed.
Out-of-date reminders are also automatically purged by Calendar Magic and appended to a text file, purged.dat, for later reference, if needed.
A multi-sheet Quick Notes facility for holding miscellaneous plain text items.
An alarm clock facility for defining an alarm for a given time on a given date. A user may specify the duration of the alarm which may be repeated, after a specified quiet time, up to five more times. A separate "stopwatch" function is also provided.
This is your life information including day-of-the-week on which you were born, number of days you have lived, your Zodiac sign, some biorhythm data, and the day-of-the-week on which your next birthday falls. Your Chinese age and your date of birth in many other calendar systems are also displayed.
Continuously updated display of date, time and Julian day.
Number of days between any two dates in the Gregorian calendar (and number of working days).
Calculation of the date n days, weeks, months or years before or after a specified Gregorian date, where n is a whole number.
An analysis of the Gregorian 400-year cycle, after which the Gregorian calendar repeats itself.
Special Julian to Gregorian change-over calendars for Bulgaria, Czechoslovakia, Denmark, Estonia, France, Great Britain, Hungary, Ireland, Italy, Luxembourg, Norway, Poland, Portugal, Romania, Russia, Spain and Sweden.
Dates and times of equinoxes, solstices and Moon phases for any year from 1582 to 3000.
Solar and lunar eclipse data for any year up to 3000.
Sunrise and sunset information for any date up to the end of 2200 for 8000 locations across the world.
Moonrise and moonset information for any date up to the end of 2200 for these 8000 locations across the world.
Great circle distances between any two of these 8000 locations across the world.
Current local time and date in any of these 8000 locations, plus interpretation of time zone abbreviations.
A Unit Converter for converting among 1722 units of measurement in 83 different categories including length, area, volume, mass, temperature, time, velocity, energy, power, pressure, computer storage etc.
A Time Calculator for performing simple arithmetic on times.
A Geometry Calculator for evaluating key attributes (area, perimeter, volume, surface area etc.) of various 2D and 3D geometric objects.
A Factor Calculator for factorising numbers with up to 60 digits and for evaluating the HCFs and LCMs of lists of numbers.
A stack based Scientific Calculator with a visible stack.
An Expression Calculator for calculating the values of arithmetic expressions entered in normal (infix) form.
A Big Numbers Calculator for performing arithmetic operations on very large numbers.
A Number Base Converter for converting numeric values between different number bases.
A Financial Calculator for performing various financial calculations.
A Fuel Consumption Calculator.
An Ovulation Calculator for predicting the dates of maximum fertility days.
A Pregnancy Calculator for calculating the due date of a pregnancy and other pregnancy related dates.
A Blood Alcohol Content (BAC) calculator.
A Body Mass Index (BMI) Calculator.
A Paper Weight Converter for converting between metric paper weights and American paper basis weights.
A magic square generator.
A reaction timer.
Colour customisation of screen backgrounds, non-button text and button backgrounds.
Support for printing any output displayed, and/or copying it to another program via the Windows clip-board using the usual Ctrl+A , Ctrl+C, Ctrl+P, Ctrl+X and Ctrl+V keyboard commands.
Code:
http://rapidshare.com/files/212209869/13.calmag172.www.amaderforum.com.zip
-----------------------------------------------------
13.Conversion calculator
The Conversion Calculator is a software which converts a value from a micro unit to a nano unit. A simple calculator to help you calculate values that are either too small or too large. Great for electronics hobbyist to find value of capacitor. Small in size, big in performance.
Code:
http://rapidshare.com/files/212209870/14.CC-FULL.www.amaderforum.com.zip
-----------------------------------------------------